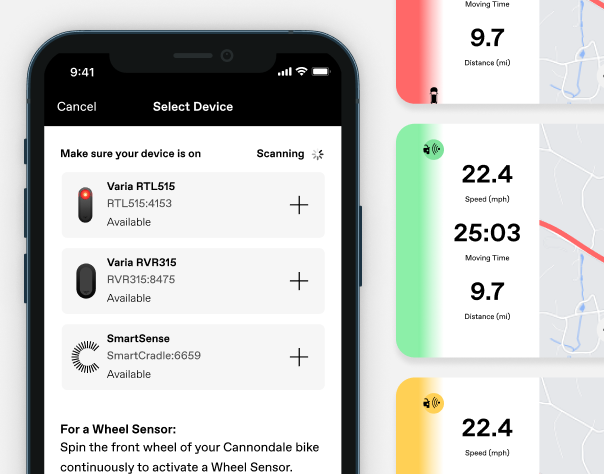 The Cannondale App supports Garmin Varia Radar models via Bluetooth (including RVR315, RTL515, RCT715, eRTL615).
This means that you can now use these radars with the app to enhance your riding experience and stay safer on the road.
To use a radar with the Cannondale App, turn on your radar and go to your Cannondale Garage and tap "Add Device". The app will detect your radar via Bluetooth. You can then access settings and data for the radar after it's connected in the Cannondale Garage or through the ride screen by tapping on the radar icon.
The Cannondale App does not support non-bluetooth Garmin Varia Radars such as RTL510.
If you are having trouble connecting your Varia Radar (RVR313, RTL515, RCT715, eRTL615) via Bluetooth, follow these steps.
Confirm Bluetooth is enabled on your phone.
Disable (temporarily) or power off other Bluetooth enable devices in the vicinity.
Confirm that your radar is turned on and pairing. Press and hold the power button for 2 seconds to see the pairing LED light flash.
Make sure your phone and radar are close to each other while pairing.
Reset the Bluetooth setting on your phone by turning it Off and then On again.
Verify you have given the Cannondale App required Location and Bluetooth permissions:

iOS

Settings > Privacy > Location Services (On) > Cannondale > Always
(Note: "While Using the App" is not sufficient)
Settings > Privacy > Bluetooth > Cannondale > allowed (on)

Android

Settings > Apps & notifications > Cannondale > Permissions > Location > Allow all the Time
(Note: This is mandatory for the App to be able to use Bluetooth in addition to tracking your rides. More info)


Force close the Cannondale App and open it again. Then try to connect your radar.
Other ride problems?
Please contact our support team using our Submit a Request form.