The Speed Sensor battery should last at least one year under normal use. If you need to replace the battery, the correct type is a CR2032, 3V coin cell battery.
Sometimes a wheel sensor that is not connecting consistently or frequently disconnecting can also benefit from a reset - removing and replacing the battery as described below.
Check the battery
First locate the LED on the wheel sensor body (item "a" in the photo below). This can usually be seen through the mounting hardware while the wheel sensor is mounted on your wheel.
To check battery level wait until the sensor has not been in motion for 10 minutes. Then start spinning the wheel continuously for up to 60 seconds until you see the LED lights. If...
LED flashes red only: the battery level is low. Replace with a new battery following the steps below.
LED flashes red once, followed by flashing green for 5 seconds: the battery and sensor are working normally
LED doesn't flash at all: first try resetting the sensor by following the steps below, but re-inserting the same battery at step 4.
Remove and replace the battery
Take photo(s) to remember precisely how the sensor is mounted to the spokes currently (to reference later)
Remove the Speed Sensor from wheel using a 2mm hex wrench.
Use a coin in the cover slot (b) and turn cover counter-clockwise until the cover dash (c) aligns with the unlock symbol (d) and is released.
If necessary, carefully use a tiny thin blade screw driver placed under the lip of the cover to lift it up. Use only very light force to avoid damaging the cover, o-ring seal (e), or cover. Do not twist the screw driver.
Remove the battery from the cover.
Wait 30+ seconds.
For battery replacement: Use a new battery
For sensor reset and troubleshooting: Insert the battery upside down for 30+ seconds. Then remove it.
Insert the battery (g) with the positive "+" symbol on the battery facing up. Note the "-" marking (h) in the cover, the battery's marking must face it. Locate the small tabs (f) and tilt the battery slightly under these tabs before pressing it in.
To reinstall in unit housing, align the cover dash (c) with the unlock symbol (d) and insert the cover with the battery.
Reinstall the Speed Sensor sensor on your wheel referencing your Step 1 photo(s) or the sensor installation instructions.
Use the coin with light downward pressure and turn the battery door clockwise until the cover dash aligned with the as shown "LOCKED". Check the battery door to make sure it is flat against the housing and not tilted exposing or pinching the orange o-ring seal. Release the cover and re-try.
NOTE: The LED (a) flashes red and green for a few seconds after battery replacement. When the LED flashes green and then stops flashing, the device is active and ready to send data.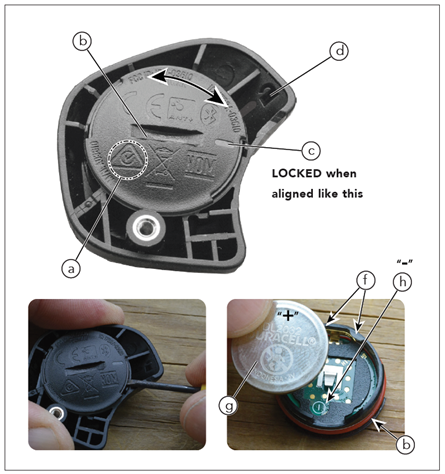 The Speed Sensor user manual can be downloaded here: 134946 REV 1 CD II Wheel Sensor.pdf