SmartSense is ready to ride. Just start riding and the Cannondale Wheel Sensor will wake up the SmartSense system. The lights will turn on and radar (if equipped) will start scanning for approaching vehicles.
Turning SmartSense On/Off
Automatically
ON: Start riding, and the Cannondale Wheel Sensor will wake up the system automatically (Auto Wake feature)

OFF: SmartSense will turn off automatically when you stop for more than six minutes
Manually
BATTERY BUTTON: Hold the button on the battery for two seconds, or until the blue light comes on, then release
or, CANNONDALE APP: Tap the SmartSense power button in the Cannondale app
Charging
Checking Battery Level - tap the button on the battery to show the battery level:

4 green LED's ~ 100% charge
3 green LED's ~ 75%
2 green LED's ~ 50%
1 green LED ~ 25%

Charging SmartSense: use a standard USB-C cable connected to a 5V 2A (minimum) USB power supply. A fully depleted battery takes approximately three hours to charge.
The battery may be charged either on or off the cradle.
Lights
Manually changing light modes: Push the button on the back of the front light to cycle through the light modes
To maximize visibility, lights will always start in mode 1 when first powered on
Manually turning lights off/on: Push and hold the front light button for two seconds to turn the lights on/off. Radar continues to work while the lights are turned off.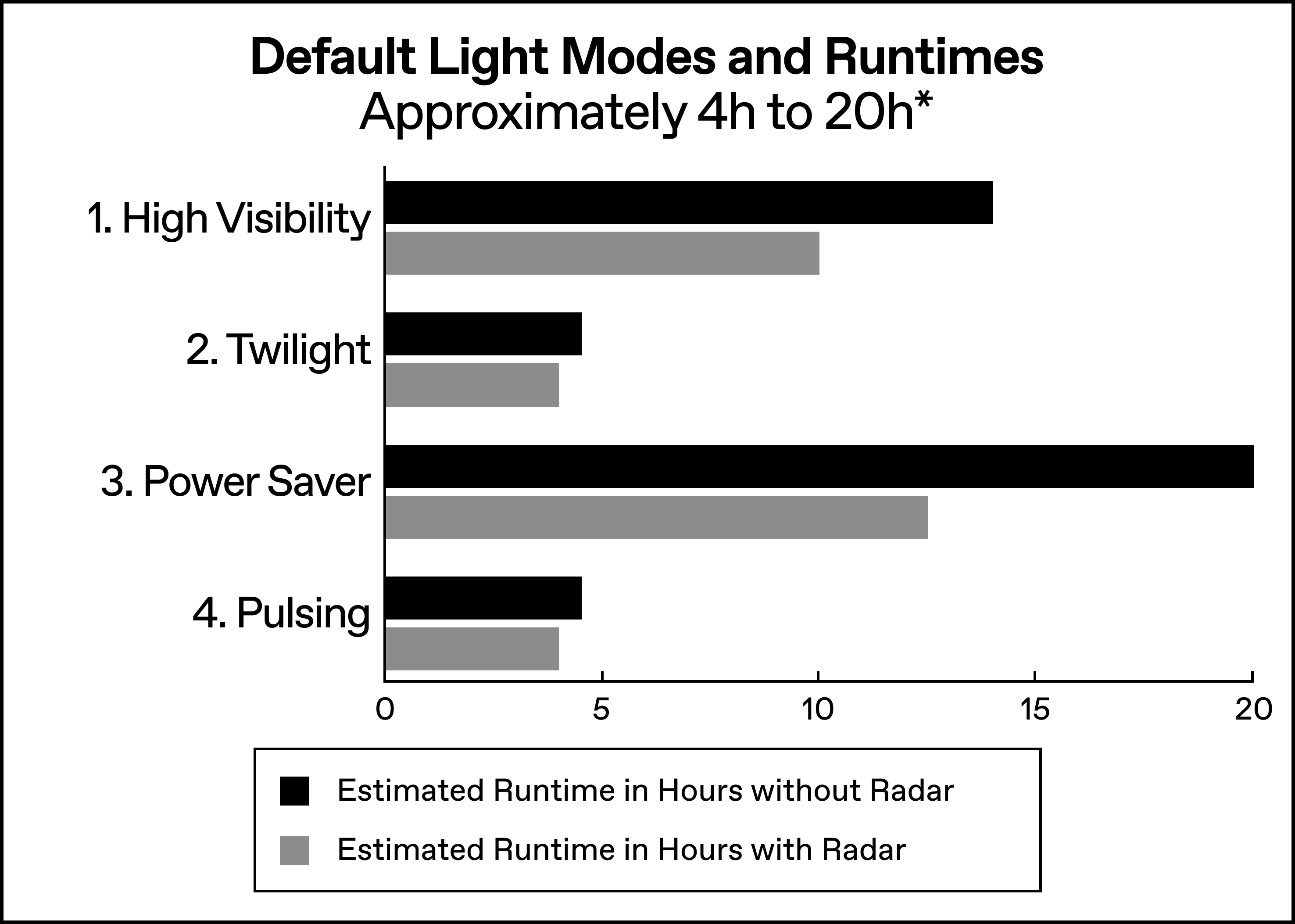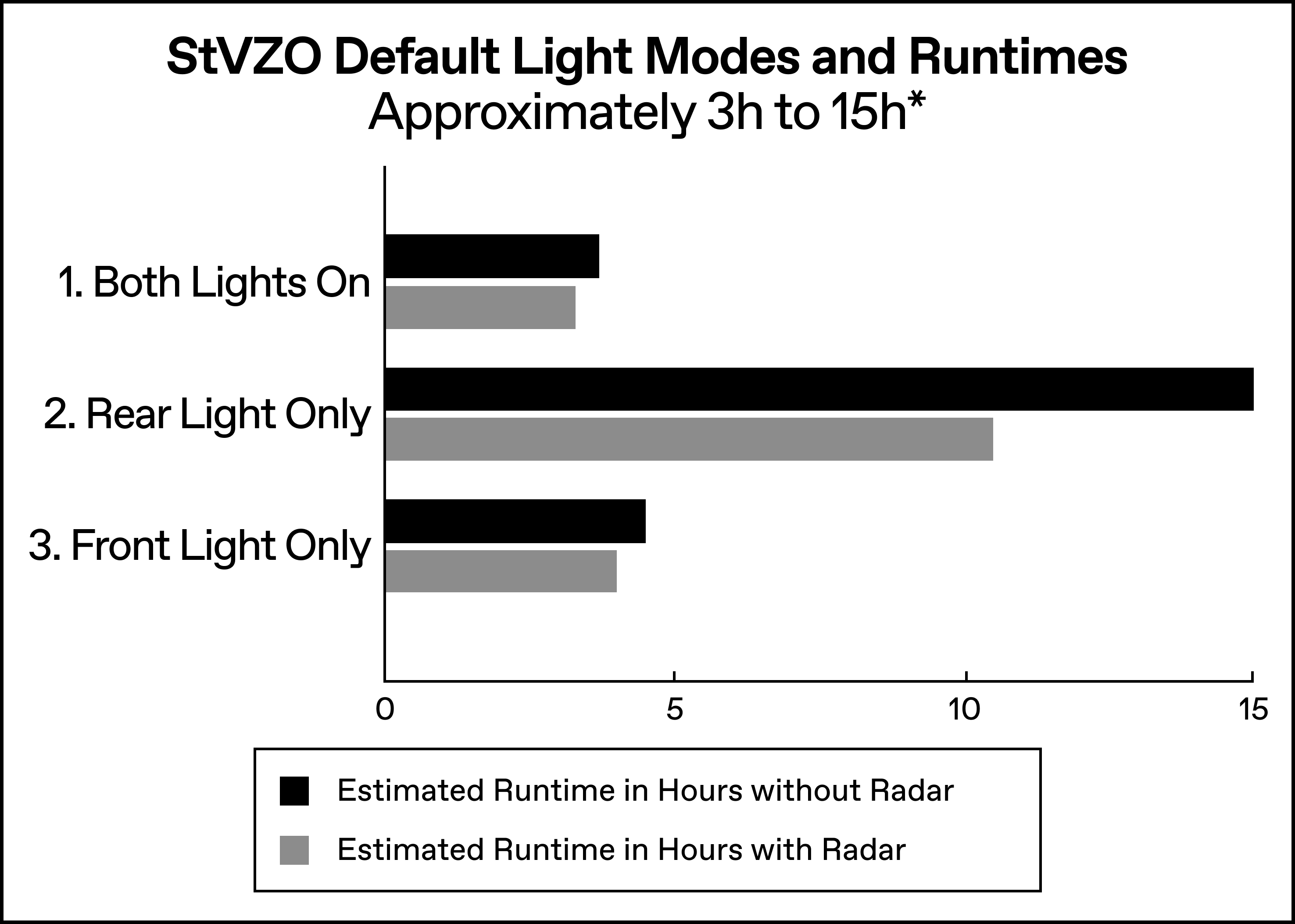 * Various factors can cause lower runtimes including: use of Auto Adjust / Auto On mode, battery health and temperature conditions. Runtimes are based on continuous use and will be reduced by time spent in Sleep mode.
What is 'StVZO'?
In some European regions SmartSense comes with StVZO-compliant lights. StVZO regulations restrict how lights may appear (for example, blinking or flashing patterns are prohibited). SmartSense StVZO systems are labelled with "K 1906" on the side of the front light.

Standard SmartSense (on the left). StVZO (on the right) is labelled "K 1906".
Radar
Some SmartSense models are equipped with integrated Garmin Varia Radar, which alerts you when vehicles approach from behind. Choose from three ways to receive Radar alerts:
Radar Display Unit on handlebar

LED display with audio alerts, included on bikes equipped with Radar
Status LED at the top and multiple white LEDs show approaching vehicles

Cannondale App Ride Screen

Use the Cannondale app and press Start Ride
Approaching vehicles will appear on Ride screen and audio alerts will sound

Paired with some bike computer head units or watches/wearables (Garmin, Wahoo, Hammerhead, etc.)
Radar alert colors:
Green = No vehicle is detected
Amber = Vehicle is approaching from behind
Red = Vehicle is approaching at a high rate of speed
Red (when no vehicles are approaching) = Device error
SmartSense Features and Settings
Auto Wake: SmartSense will turn on when the Wheel Sensor detects motion. It will turn off automatically when you stop for more than six minutes. SmartSense can always be turned on/off using the app, or the button on the battery. (On by default)
Auto Adjust in Low Light (StVZO = Auto On in Low Light): In low light conditions, lights will change to maximize your visibility to drivers. When brighter conditions return or you change the light mode, lights will return to your selected mode. The ambient light sensor is located on the back face of the front light. In some cases, this setting may increase battery drain significantly. (On by default)
Auto Low Power Mode: To extend range, lights will change at 10% battery and radar will turn off at 5%. (On by default)
Brake Alert: Rear light will react to rapid deceleration, warning people behind you. (On by default)
React to Radar Targets: Lights will react to cars approaching from behind, to make you more visible. (On by default, if Radar equipped)
Auto Proximity Flash: Lights will flash briefly when you open the app near your SmartSense. (Requires app)
Radar audio & visual display options (Requires app)
USB power bank: Battery can be used to charge other USB devices (phone, head unit, etc.), but not while riding.
* All features and settings can be customized in the Cannondale App
Using SmartSense with the Cannondale App
When you add your SmartSense bike to the free Cannondale App (iOS or Android), you will have more ways to control and customize SmartSense, including:
Customize SmartSense features and settings
Power SmartSense on/off
Customize and control SmartSense light patterns (not applicable on StVZO systems)
Precise battery level indicator
Receive Radar alerts on your phone
Upgrade firmware (when necessary)
Troubleshooting