Auto Wake: Just start riding, and the motion of the Cannondale Wheel Sensor will wake up the SmartSense system automatically.
SmartSense will turn off automatically when you stop for more than six minutes
SmartSense can also be turned off manually at any time
You may disable the Auto Wake feature if you prefer (see #8 below)
If the Auto Wake feature is not working, check the following:
Add your SmartSense equipped bike to the Cannondale App (iOS or Android)
Tap on Garage and tap on your bike's name to see the Bike Details screen
In Devices, tap into SmartSense
Tap on the power button to turn SmartSense ON (Status = Active)
Go back to Bike Details
Verify that a Wheel Sensor is shown at the bottom of the Devices section
If none, tap Add Device to add it, then proceed with Step 7
Tap into SmartSense
Verify the Auto Wake feature is toggled ON
Verify the Auto Wake Wheel Sensor section shows the same ID number (e.g. SPD-BLE0424429) as in Step 6 above
If it is different, or appears as "-- ", tap on the text to change it
Select the Wheel Sensor
Tap the power button to put SmartSense to Sleep
Test Auto Wake
Start spinning your front wheel continuously
Within 10-20 seconds SmartSense should turn ON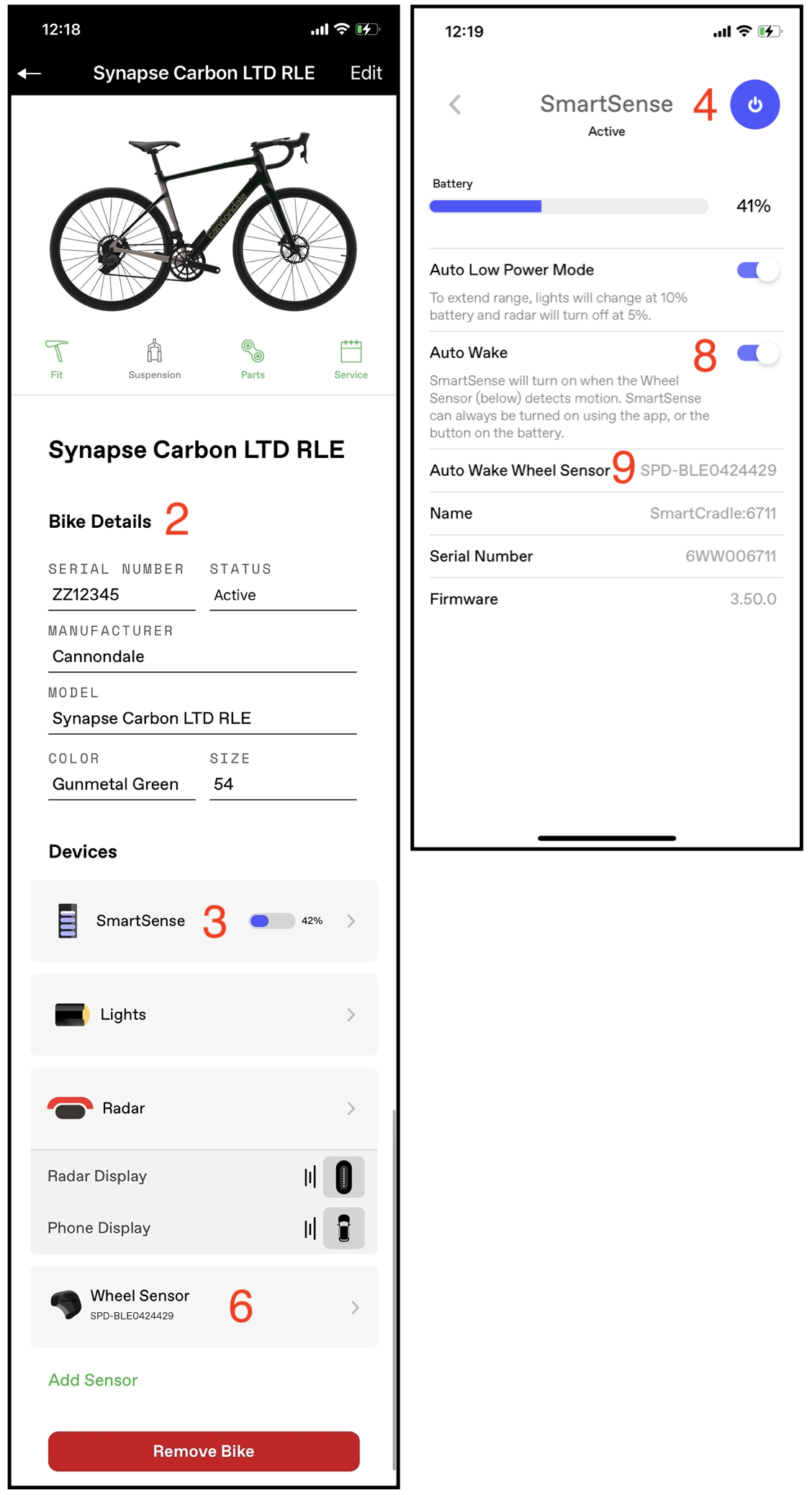 Auto Wake turns SmartSense on when I'm not riding
An accelerometer in the Wheel Sensor wakes up the system. Unintended motion may trigger it, including: walking your bike around, transporting the bike in a vehicle (even without the wheel spinning), etc. We suggest doing one of the following:
Manually power off SmartSense using the battery power button
Remove the battery from the cradle during transport
You may also disable the Auto Wake feature if you prefer (see #8 above)
Still having trouble?
Please contact our support team with the "Submit a request" link below.